<!-ShowPage(index.html)->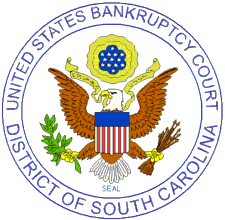 Welcome to the United States Bankruptcy Court for the District of South Carolina
<!-ShowPage(OperationNotice.htm)->
To file documents on this CM/ECF System, you must have a unique login and password issued by this Court. Click here for information.
Local Rules and Chambers Guidelines
---
South Carolina Centralized CM/ECF V10.3 LIVE Database
The U.S. Bankruptcy Court for the District of South Carolina reserves the following dates and times to perform routine maintenance and upgrades to the CM/ECF system(s). During these maintenance windows, end users MAY experience intermittent service interruptions.

First Saturday of each month 5AM - 1PM (EST)
Third Saturday of each month 5AM - 2PM (EST)

*Any maintenance scheduled outside the reserved maintenance window will be communicated with as much advance notice as possible.
---
12October2019
Court Information