<!-ShowPage(index.html)->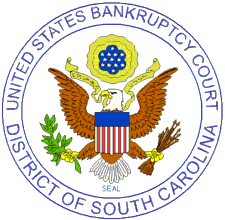 Welcome to the United States Bankruptcy Court for the District of South Carolina
<!-ShowPage(OperationNotice.htm)->
To file documents on this CM/ECF System, you must have a unique login and password issued by this Court. Click here for information.
---
South Carolina **Linux** CM/ECF V5.1 LIVE Database for RHEL 5 Server

ECF Live Date: 1/21/2003, Linux Date: 5/28/2006, V5.1 64-bit Date: 04/20/2013
In addition to major scheduled upgrades or emergency maintenence, the Court will be performing routine systems maintenance on the 3rd Saturday of each month between the hours of 7:00 AM and 2:00 PM. Users may experience intermittant connectivity issues during this time.
---
7June2012
Court Information